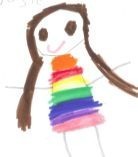 Chestnut Class (Reception)
Welcome to Chestnut class where we are learning detectives! The children learn through fun and engaging activities which are planned using the current topic and linked to the children's' own interests and the EYFS. We meet and learn with our friends in Oak class during ChIL time. ChIL time is when we learn through play and investigate our own interests. We love to learn outside and so we go into the Reception outdoor classroom everyday (weather permitting).
This class is taught by Miss Knights and is supported by Miss Luyk.